Garage Door Springs
Back To Our Services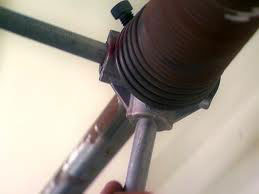 Here at Garage Door Experts of Santa Fe, one of the most common needs of our customers is the repairing or replacement of garage door springs. Luckily for all of our customers, our technicians are highly skilled in the repairing and replacement of garage door springs. Our main goal is to provide the utmost service and professional quality to all of our customers while exceeding their expectations. Along with offering the best garage door springs service in the area, we offer all of our customer's emergency 24 hour service, and that's 7 days a week. Moreover, we strive to provide same day service as often as possible. The technicians we have on duty are professional and friendly, aiming to give you the best experience possible.
In the garage door industry there are two types of springs that are used the most commonly. Extension springs are the first garage door springs of wide use. These garage door springs come in many different sizes and shapes and are used primarily in light weight garage doors. The torsion springs are generally located in the center of the garage door, and the extension on the far left and right sides. Only when installed correctly can these springs withstand their expected life cycle--which is about 10,000 cycles. It is when these springs are not installed correctly that life cycle is greatly reduced and accidents are bound to happen. Garage door springs are prone to wearing out over time, as with many other different pieces of machinery. In this case, the garage door springs are supporting a lot of weight in the form of garage doors. Our technicians are able to wind and adjust these springs to maintain accurate performance for a good long time. These springs can be very dangerous that's why we offer our broken spring repair/replacement service. One of our techs should provide this service for you. That's the kind of professionalism you will find from the technicians at Garage Door Experts of Santa Fe.
Marantec garage door opener
Another aspect of garage doors that are the main driving force behind the way they operate is the garage door opener. These garage door openers vary anywhere from less expensive, yet loud screw drive systems; to more expensive and quiet belt drive systems. Regardless of which type, our qualified technicians are always ready and able to fix whatever problem you might be having. Installations, replacements and repairs; you name the service, and we will deliver.
*Genie Garage Door Opener
*Chamberlain Garage Door Opener
*Liftmaster Garage Door Opener
*Craftsman Garage Door Opener
*Sears Garage Door Opener
*Marantec Garage Door Opener
Of the many services we offer, garage door cables and tracks replacement and installation is probably the one we specialize the most in, as it is the most common need for garage doors. However, we have put together a list to highlight all of our repair services as follows:
*Snapped Cable
*Bent Garage Door Track Repair
*Loose Cables
*Cable Came off Drum
*Broken Cables
*Garage Track Replacement
We at Garage Door Experts of Santa Fe also know the importance of regular garage door maintenance and adjustment and we are proud to let our customers know that our garage door contractor is highly skilled in this department. Our garage door company knows how important it is to have regularly maintenance lubrication.
Garage door remote systems aren't so much an initial part of a garage door as they are an extension or add-on. However they are still very popular among garage door users as they allow people to remotely open and close their garage door without having to leave their cars. We carry all the best name brand garage door remote systems such as:
*Liftmaster Security +
*Genie Intellicode
*Multi Code
*Clicker
Anytime that you find yourself in need of some serious garage door repair work; you can trust our professionals here at Garage Door Experts of Santa Fe. We know garage door repair like the back of our hands and take great pride in the professional service we provide for all of our customers.