What are the different garage door materials to choose from?
02/04/2015
Back To Blog
Aluminum, wood, steel, fiberglass and wood composite are the materials that you can choose from for your garage door. And different materials have different pros and cons, so compare the options before you decide which material is best for your garage.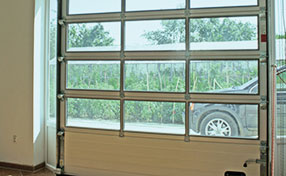 Garage Door materials:
* Fiberglass doors. This material is perhaps the least favorite due to the poor insulation it provides. Too much sun and rain exposure could also render it weak and unstable. But the good thing about fiberglass is that it is more resistant to dents and corrosion from salt water. So it is a good choice for homes near the coast.
* Steel doors. Steel is widely used and a popular choice among homeowners. It could come in different styles, painted or its design could be like wood. It could even look and feel like it's textured. Although steel doors are a bit expensive, it is low in maintenance and durable so you won't spend much on garage door repair. Its disadvantage, however, is its poor insulation.
* Aluminum doors. Like steel, aluminum could be customized and designed to match the scheme of your home. It is less expensive as compared to steel as well. However, aluminum materials are lighter and more prone to dent, unlike steel.
* Wood composite. Composite is better than wood because it is more resistant to chipping or splitting. It doesn't easily rot, too. You can also paint and design composite wood and make it look like a real hardwood. However, it is not as beautiful as the real wood and it is not as durable like steel or aluminum. So you will also be spending a good sum for garage door repair.
* Wood doors. Wood is a popular choice for homeowners who want traditional materials and styles. There are painted wood and stained wood and it comes in different wood finishes too. It can be easily customized to fit the design of your lovely home. Wood also has a better insulation yet it is not as durable as compared to steel and aluminum. It could scratch or chip so your expenses for a garage door repair might be more as compared to other garage door types.